OUR MISSION, VISION AND OBJECTIVES
To train and produce skilled health professionals in Homoeopathy who are competent to work efficiently in both urban and rural set ups.
To be a leading centre to lend a hand to give affordable health services for people at large, especially the ailing poor population.
To participate with various Central Government and State Government agencies in implementing various national health programs effectively.
To build a centre of excellence in the field of Homoeopathic education of Undergraduate and Postgraduate level.
To be a centre of excellence in the field of health services which cater to the needs of public at large, especially poor.
To strive for achieving international standards in the field.
To inculcate moral values in students and to make them equipped to serve the suffering humanity wholeheartedly.
To open and run Technical and Medical education colleges.
To open and run engineering college, Ayurved college and Hospital, Homoeopathic college and hospital, Dental college and hospital, Medical college and hospital, Nursing college, Ayurved women health works training centre, Para-medical training and all types of training centres and colleges.
To rum Diploma, Degree or Post Graduation Course in Physical Education.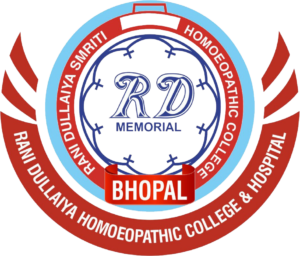 Address:- Barkhedi Kalan, Bhadbhada Road, Bhopal- 462 044
Phone :- +91 755-2696776, 9340298554
Email :- rdhomeopath@gmail.com